I enjoy flying with EasyJet. They have excellent service, and they are family family friendly. According to the airline's policy, parents traveling with children can take two of the following items for no extra charge: stroller, travel cot, back carrier, safety seat or booster.
Families with children get to board the plane first. Awesome!
Combine this with cheap flights and you get a wonderful travel opportunity.
If you'll travel light with a  small trolley each, you can find very low prices, as low as 20-70 euros per way.
The price shown on their website includes a carry-on trolley. Suitcases that you send along will cost you extra. See luggage policy here.
You can add the suitcases later on. If you found a good bargain – buy it, you can decide afterwards if you want to add suitcases.
Don't want to pay for luggage? You can find here my list of items that I take on my travels – it all fits in a trolley sized backpack.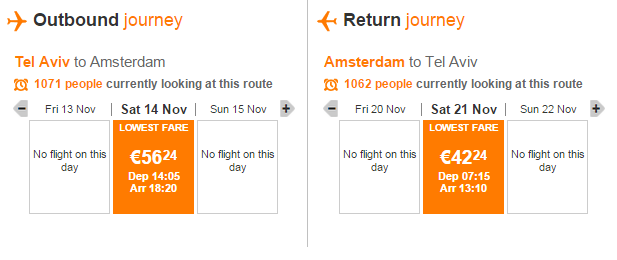 If you haven't found the cheap flights you were looking for, take two tips that will definitely help:
1.Change the display.
After selecting your destination on the homepage you'll see a 3 day view. Change it to a yearly or 3 week view.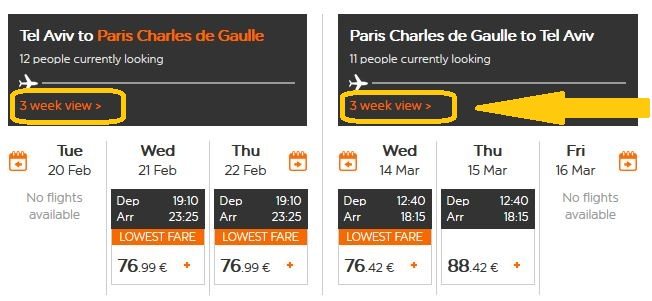 Looking at the flights available across the month will help you focus your search.
Click the desired month and see flights over a 3 week period.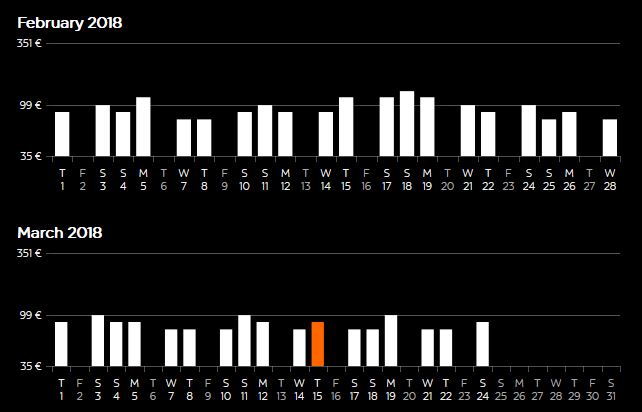 Another convenient view is Inspire Me
2. Say "no thanks" to cookies.
EasyJet distributes cookies whenever we search for flights.
(No, not the sweet kind, but the spying one)
They want to know what tickets you're looking for from your computer. When they understand you really want to go to Paris, for example, the prices you see steadily go up.
EasyJet knows that when the average user sees the prices go up he will quickly buy the tickets so they don't get too high.
Obviously the prices can change based on demand too, but the cookie game takes a major part of the deal.
To avoid cookies, use Incognito Window when searching for flights.
In chrome you open it by pressing Ctrl+Shift+N.
It seems most airlines use similar cookies, but from my experience its most noticeable with EasyJet.
Tip:
The cheapest flights are usually available during the first 24 hours of publishing the new flights schedule. EasyJet announces these dates 6 to 10 months prior on their website – here.
I recommend you make sure you are prepared for these days: understand where EasyJet flies, plan out connection flights if needed, and find dates that are suitable for you.
The cheap ticket get sold extremely fast, so you have to just go and buy once the tickets go live.
To find and connect cheap flights use search engines:
SkyScanner / Kayak / momondo / Jetradar